_____________________________________
SUPREME COURT OF THE STATE OF NEW YORK COUNTY OF SUFFOLK
Index No. 061458/2013
AMERICAN EXPRESS BANK, FSB APPENDIX 4
-v- June 26 2002 EAST HAMPTON VILLAGE TOLLING MOTION
DANIEL M ROSENBLUM AS BASIS FOR NEW SIMILAR MOTION TO STAY PROCEEDINGS
Plaintiff attorney of record Zwicker & Associates action commenced July 2013
Amex card 371339213796009
________________________________
SUPREME COURT OF THE STATE OF NEW YORK COUNTY OF NEW YORK  
Index No. 100156/2011 American Express, FSB APPENDIX 4
-v- June 26 2002 EAST HAMPTON VILLAGE TOLLING MOTION
DANIEL M ROSENBLUM AS BASIS FOR NEW SIMILAR MOTION TO STAY PROCEEDINGS
Plaintiff attorney of record Jaffe & Asher action commenced March 2011
Amex card 371339213796009
__________________________________
THE FOLLOWING INFORMATION IN THE ABOVE CAPTIONED MATTER(S) IS HEREBY PRESENTED TO THE GENERAL PUBLIC AND NEW YORK STATE SUPREME COURT, SUFFOLK COUNTY & NY COUNTY....
....AS AN APPENDIX TO MY INFORMATIONAL SUPPLEMENT IN ANSWER TO THE ABOVE CAPTIONED MATTERS, SUBMITTED BY DEFENDANT DANIEL M ROSENBLUM ("I", "ROSENBLUM" and "DMR" below.)
___________________________________
1. the foregoing is informational supplement to Paragraph 9 of DMRAMEX091513, and is therefore Appendix 5 of 18 to DMRAMEX09082013 ¶ 9 ¶¶¶¶¶¶¶¶¶ Subject : "July 2013 Materials; MATERIALS/webpage titles by Defendant Rosenblum as "July 2013 Materials", relevant in many ways to Amex v Rosenblum" Efiled Document #13.
On June 26th, 2002 I filed the following "Tolling Motion" in East Hampton Village Justice Court, requesting the court to "stay" or "toll" or "stop the clock" on all statutes of limitations associated with a speeding ticket I received for a ticket I got going 6 or 7 miles per hour over the Village Speed Limit of 25 MPH on Dunemere Road in the early afternoon on an autumn weekday. Below is the tolling motion. Note this is a copy of my website, which I am filing in court given the necessity to answer litigation, but, since it is my website, the webpages occasionally go into ancillary details, such as : here is a link to some pictures of the route where I got the speeding ticket. I was driving the producers of a film being featured in the Hamptons International Film Festival from Wiborg Beach to the Huntting Inn, which was the Festival headquarters that year. We were simply sightseeing, killing 15 minutes between appointments on a tour of the Village of East Hampton. It is also the route I rode my bicycle every day from the beach to the storage facitlity in East Hampton where I kept my tent and other gear after sleeping every night at Wiborg beach with my tarp or tent.
As stated in my affidavit in my August 12 2013 correspondence filing in NY Supreme Court NY County Index # 100156/2011 filing of the same June 26 2002 East Hampton Village Tolling Motion, "I Daniel M. Rosenblum, birthdate 3/23/69, defendant in NY State Supreme Index 100156/2011, believe it to be true that the subject matter and legal argument of this 16 page Tolling Motion I authored in 2002 is the basis for staying proceedings in the instant action 100156/2011, although some facets of the 2002 Tolling Motion necessitate editing and development with appropriate resources, all as stated in my 4/14/2011 Affidavit in Opposition in this instant action. The underlying causal factors supporting the 2002 Toll Request (in 2002 there was no tolling decision) remain unresolved in 2013. I believe a stay of proceedings until resolution of causal factors cited herein is just. This 2002 16 page document is supplement to information on display on my website at www.twentyfirstcenturydigital.com/amexaug2013.php, today 8/12/2013 i have filed webpage insofar as 100156/2011."
The same is true insofar as New York State Supreme Suffolk County Index 061458/2013.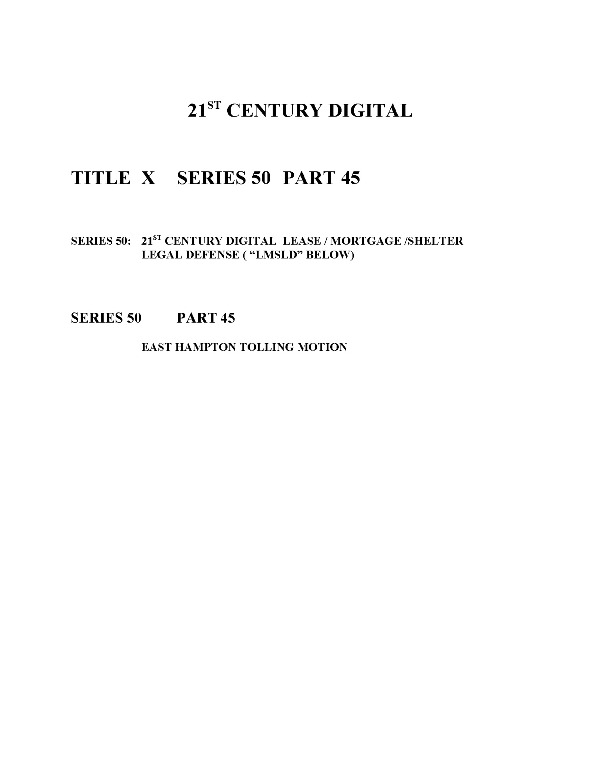 Images of the remainder of the motion are below, following brief remarks:
Note the June 26 2002 Tolling Motion re-published and filed variously in 21st Century Digital Title X Series 50 Part 40, Legal Defense Motions which had bearing on Daniel M Rosenblum's legal defense for camping on the beach while without domicile following attorney misconduct in a case resulting from a wrongful felony criminal allegation by a Citibank branch manager. Here is the index listing for the Rosenblum's Title 10 Series 50 -40. The Title 10 Series and the TTS 2001 Title I series are therefore relevant to the East Hampton Tolling Motion, and/or any similar tolling motions until such time that the causal factor justifying the Toll is remedied. Here, the causal factor which should have justified the court's toll of the subject matter requested in the motion has not been remedied, the subject matter itself not properly addressed at the federal and state agencies necessary. 
21ST CENTURY DIGITAL
TITLE X SERIES 50 PART 40
SERIES 50: 21ST CENTURY DIGITAL LEASE / MORTGAGE /
SHELTER LEGAL DEFENSE ( "LMSLD" BELOW)
SERIES 50 PART 40:
LEGAL DEFENSE MOTIONS
INFORMATIONS {a} [{b} @ SERIES 50 PART 10]
FILINGS WITH CITATIONS AND CONTEXT INTEGRAL TO
DEFENSE/ARGUMENT
EH TOLLING MOTION
MAY02 TO SH
OTDA TABLE OF AUTHORITIES
IRS LIST
RECEIPT REVIEW AUTH
1/11/01 AFF
5TH ANNIVERSARY DOC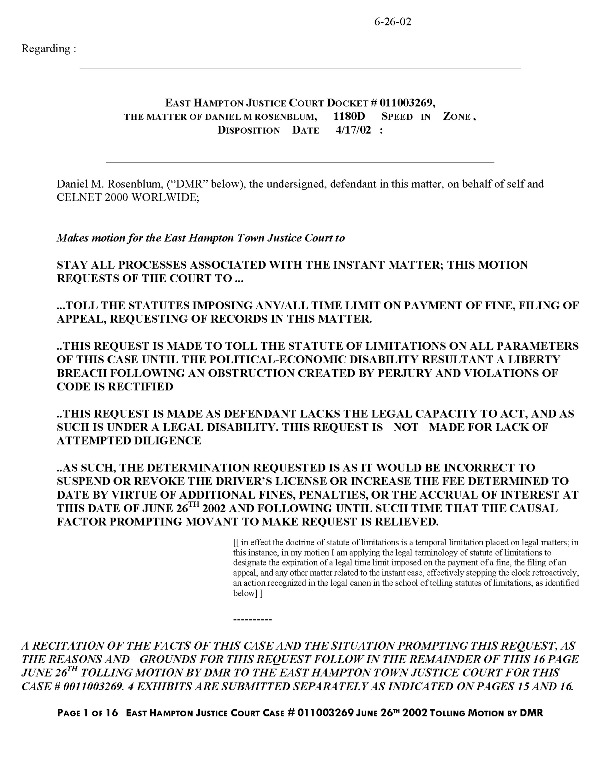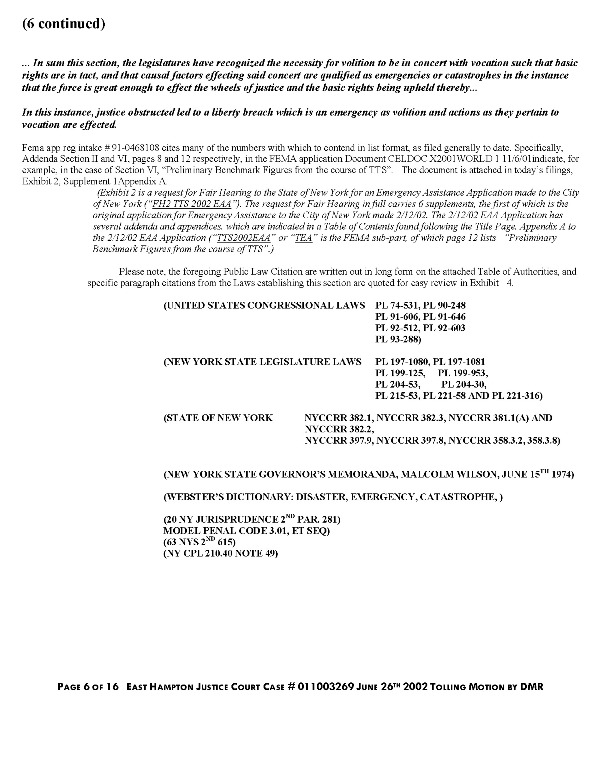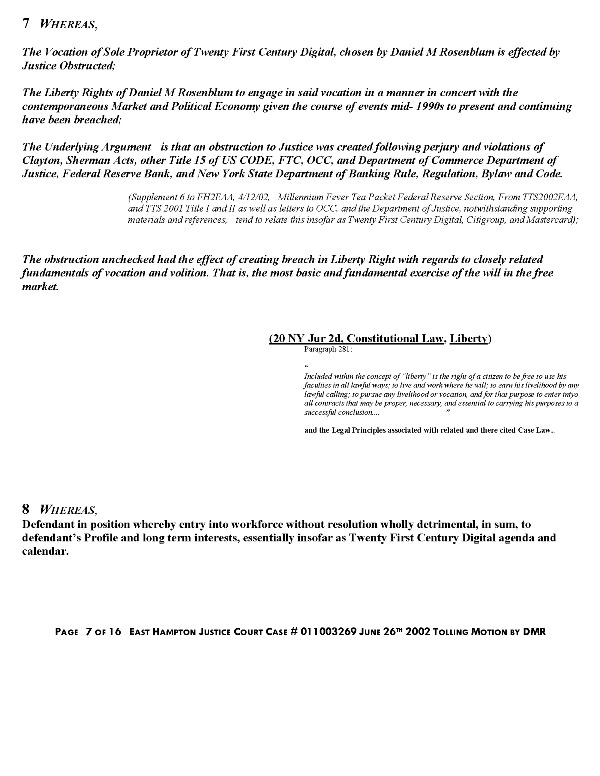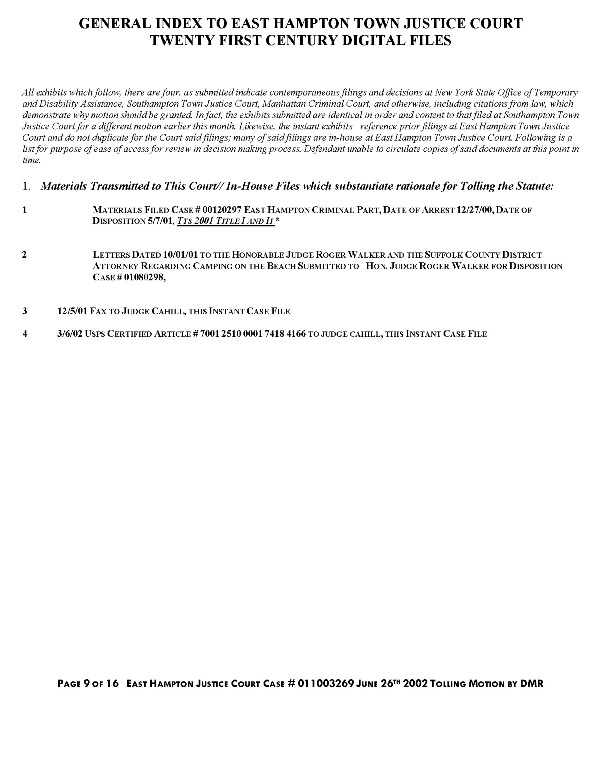 Affirmed and signed, (certificate of signature in Efile)
Daniel M Rosenblum September 15, 2013